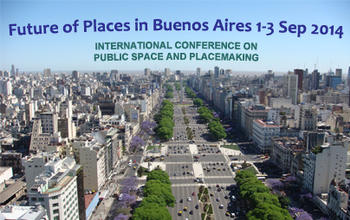 1-3 September 2014. Buenos Aires, Argentina
+INFO:  futureofplaces.com
This is the second of three international conferences and it will convene some of the world's most profound minds and dedicated professionals on the subject of public space and placemaking. (Other activities on national and regional level are also going on during the period 2013-2016).
The main theme for the second conference focuses on "Streets as Public Spaces and Drivers of Urban Prosperity"; the subject is appropriately related to a new research report from UN-Habitat with the same name.
The conference – like the report – will demonstrate that streets as public spaces have the transformative ability to address a range of issues pertaining to the primary pillars of sustainable urban development, namely, social, economic, environmental, governance and spatial.