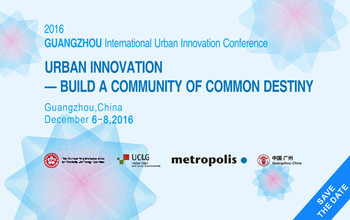 6 - 8 December 2016. Guangzhou, China
 +INFO:  www.guangzhouaward.org
Guangzhou International Urban Innovation Conference is the ideal witness to joint efforts of cities around the world to build a better future. As an important platform for global cities to share experience of innovation, it draws from innovative ideas and excellent practices of cities and local governments around the world, enhances sharing, promotion and application of advanced governance experience among cities, and helps global cities achieve mutual development and shared prosperity.
The Conference will be jointly hosted by the Chinese People's Association for Friendship with Foreign Countries, United Cities and Local Governments, World Association of the Major Metropolises and the City of Guangzhou. Themed as Urban Innovation — Build a Community of Common Destiny, it includes opening ceremony, Guangzhou International Urban Innovation Seminar, internal Jury meetings, thematic seminars, the Award Ceremony, Urban Innovation Exhibition and other activities. Participants will explore issues of urban development that is both relevant to the world and China through keynote speeches, dialogue and interaction with panel and audience, focusing on innovative, coordinated, green, open and sharing development philosophies. Representatives from international organizations and cities participating in the Guangzhou Award, government officials from sister cities, entrepreneurs and scholars will be invited to discuss and exchange views on urban innovative practices and endeavors made by local governments around the world. As they contribute their wisdom, more innovative ideas will be inspired and urban innovation will see further development.
This conference will bring together representatives of local governments worldwide, international organizations, the applicants for Guangzhou Award, representatives from the academic and economic sectors. They will discuss the innovative practices in local governance. This is a platform for wisdom and creative thinking. We sincerely welcome you to join the Guangzhou International Innovation Conference 2016 and become part of urban innovation.